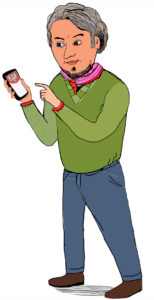 The app Tät®III is available at App Store and at Google Play. It is intended to support men with pelvic floor exercises in cases where these kinds of exercises have been recommended by medical staff.  Urine leakage upon coughing, jumping or sneezing – stress incontinence – is common after an operation for prostate cancer (radical prostatectomy).
When the prostate has been surgically removed, most people experience urine leakage directly after the operation. The leakage usually decreases within several weeks or months, as part of the healing process. In some people, however, the leakage remains, and one year after their operation for prostate cancer, one fifth of patients report that they experience moderate or severe urine leakage.
It is recommended that pelvic floor exercises start before the operation is performed, and that the exercises continue after the operation. Studies have shown that urine leakage problems can decrease more rapidly with the help of pelvic floor exercises.
The Tät®III app provides a pelvic floor muscle training programme in six basic and six advanced levels, with increasing severity. Four different kinds of "contractions" are described. The app includes visual aids for each level of training, a statistics function and the ability to create reminders.
The Tät®III app builds upon the Tät® for women, which has been evaluated in several studies with positive results for the treatment of stress urinary incontinence, see www.econtinence.se
In order to follow the use, there are questions integrated into the app regarding age, gender, education, residence (urban or rural), prostate operations, and urinary leakage. Answering the questionnaires is voluntary, and entered data is anonymously transferred to the research database. The answers cannot be traced to a specific user or telephone number. The Ethics Review Board in Umeå has issued an advisory opinion, stating that they do not see any ethical problem with this study. Read more here
We welcome questions and comments about the app, please use our contact form at www.econtinence.se
Good luck with the exercises!