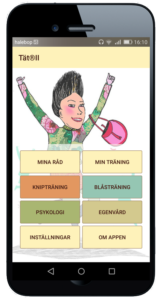 The app Tät® II was developed for the treatment of urge- and mixed-incontinence in women. Urge incontinence means leakage associated with urinary urgency (sudden need to urinate). With mixed-incontinence urinary leakage occurs in association with both urinary urgency and physical exertion (coughing, jumping, exercise).
The app Tät® II contains information, advice on self care and exercise programmes for these types of incontinence. There are various exercises for the bladder (bladder exercises) and for the pelvic floor (pelvic floor exercises) as well as a section on the psychological factors that can affect incontinence. The programme is interactive and allows you to create reminders and view statistics.
The app Tät® II, which has a green icon,   is available in Swedish from the App Store and Play Store. While the Tät® II study is underway the app is only available to the public in a limited version with information but without access to treatment programmes.
Each participant in the Tät® II study is assigned to a group which has access to the app with information or to a group with access to the app with treatment programmes. After three months the results from the groups wwll be compared. The group which has the app with information will then be given access to the treatment programmes.
To take part in the study you should be able to speak and write in Swedish and have urinary leakage at least twice a week. You should have had problems with leakage associated with urinary urgency for at least one year. You should be a woman aged 18 of over. You should not be pregnant. You also need to have access to a smartphone with the programme version iOS 8.0 or later (iPhone) or 4.0.3 or later for Android.
Read more in research subject information (in Swedish) about what is required for participation in the study. If you are interested in participating you can then fill in a questionnaire anonymously. It is simplest to fill in the questionnaire on a computer. If you have symptoms which mean that you cannot take part in the study, you will receive an automatic reply in the questionnaire. Click here to access the questionnaire (in Swedish).