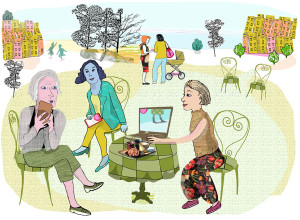 The app Tät® II is intended for the treatment of urge- and mixed-incontinence in women. Urge incontinence means leakage associated with urinary urgency (sudden need to urinate). With mixed-incontinence urinary leakage occurs in association with both physical exertion and urinary urgency.
The app contains information about the urinary bladder, the pelvic floor, psychology and lifestyle factors. The app has three different treatment programmes, a statistical function and the facility to create reminders. It can also provide users with individually tailored advice and feedback on exercising. It was developed by Eva Samuelsson and Towe Wadensten in collaboration with the department ICT services and system development (ITS) at Umeå University. The app is CE-marked and complies with Läkemedelsverket's (the Medical Products Agency's) medical safety standards.
Participants in the Tät®II study are assigned either to a group which has access to the app with information or to a group which has access to the app with treatment programmes. After three months symptoms, quality of life, and the number of occurrences of urinary leakage and urinary urgency are assessed and the results of the groups are compared. You can find detailed information about the study here (in Swedish).
Until the study is completed only a restricted version of Tät®II will be available to the public, with information but without access to the treatment programmes.
To help you assess the app and sign up, you can read more about the study here (in Swedish).
Press release about the study, Umeå University (in Swedish).