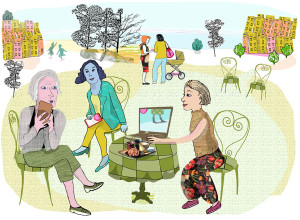 At the moment Tät®II, is available to the public, with information but without access to the treatment programmes.
The app Tät® II is intended for the treatment of urge- and mixed-incontinence in women. Urge incontinence means leakage associated with urinary urgency (sudden need to urinate). With mixed-incontinence urinary leakage occurs in association with both physical exertion and urinary urgency.
The app contains information about the urinary bladder, the pelvic floor, psychology and lifestyle factors. The app has three different treatment programmes, a statistical function and the facility to create reminders. It can also provide users with individually tailored advice and feedback on exercising. It was developed by Eva Samuelsson and Towe Wadensten in collaboration with the department ICT services and system development (ITS) at Umeå University.
Participants in the Tät®II study were assigned either to a group which got access to the app with information or to a group which has access to the app with treatment programmes. After three months symptoms, quality of life, and the number of occurrences of urinary leakage and urinary urgency were assessed and the results of the groups are compared.
The app showed significant improvement on symptoms and quality of life at the follow-up after 3 months, the published results are available here. These improvements were sustained at the follow-up after 1 year, read the full results here. Further analysis also showed that the app was cost-effective, results available here.
An implementation study of the app is being planned for participants living in Sweden. If you have urgency or mixed urinary incontinence and are interested in participating in the implementation study, please contact us via the contact page and we will get back to you when the study starts.