For those who wish to perform exercises using the app Tät®!

The app Tät® is a CE-marked medical smartphone application for the treatment of  stress incontinence. It was developed within the research project tät.nu at Umeå University with support from the unit for IT services and system development (ITS) at Umeå University. The app contains information, pelvic floor exercise programmes involving 6 basic steps and 6 advanced steps, a facility for creating reminders, and a statistical function. Treatment supported by the app produced positive results when assessed in a research study for women with leakage triggered by coughing, exercise (especially jumping) or physical activity. Nine out of ten women who performed exercises with the help of the app showed improvement, compared with two out of ten in the group which was still waiting to receive the app.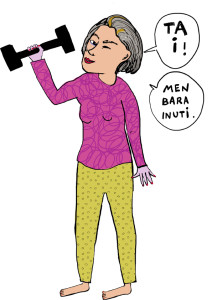 You can download the Tät app via the App Store (iPhone) or Google Play (Android). To allow us to monitor what happens when the app becomes generally available, we would like you to answer questions about your age, gender, education, where you live (urban or rural), pregnancy and urinary leakage. Three months later you will be asked some follow-up questions about your urinary leakage and how often you have performed the exercises. Replies to the questions are entered anonymously on our research database; these replies cannot be linked to specific users or telephone numbers. The answering of questions is entirely voluntary. The study has been approved by the research ethics committee at Umeå (Ref. no. 2014-389-32M, Dnr 2017-405-32M). ©Tät.nu 2010-2020, Tät®2020, Umeå, Sweden.
We welcome questions and comments about the app, please use our contact form tat.am@umu.se
Good luck with the exercises!
Development and usage of the app